Open Hours

Updated October 15, 2022

Tuesdays 1:30 pm – 4 pm
Sundays 12 pm – 4 pm

Food waste drop-off: all year.
Leaf drop-off: October–December.
---
Garden Guide
Things to do at Down to Earth Garden
Fall/Winter Activities
Open Season; Off Season Activities; Seed germination
How DEG Uses All Organic Matter and Weeds
---
Garden Guide
Down to Earth Garden is a GreenThumb community garden:
---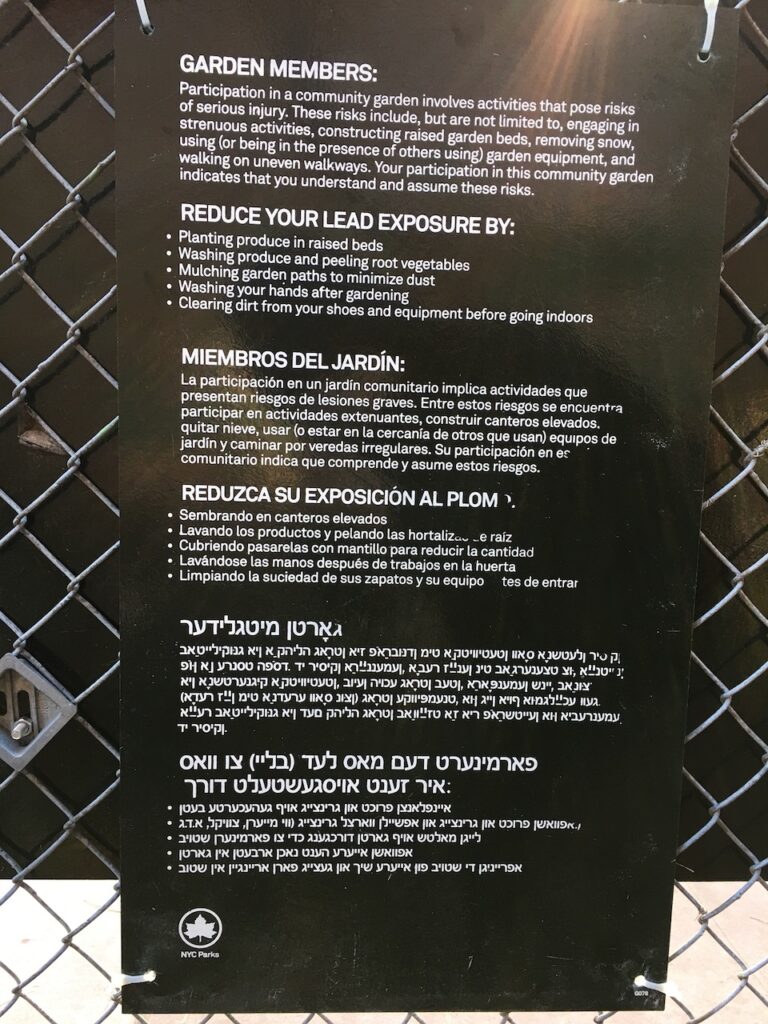 ---
Things to do at Down to Earth Garden.
Do one or more, or do activities not listed here (consult with other garden members).
Look for rat holes and collapse it using a shovel.
Watering.
Food waste treatment.
Trenching fermented food waste or feeding it to worm bins (if you would like to know how, contact us information for an orientation).
Weeding and cut into small pieces (hand clipper is in the purple 5-gallon bucket).
Harvest any vegetables and fruits (communicate with other garden members [google group] to know which ones are okay to harvest).
Mulching. Cut into small pieces any fallen foliage and branches.
Remove (carefully) any vines creeping up on the wall and onto trees (communicate with other garden members to know which to remove).
Use garbage picker in tool shed to pick up trash.
Take breaks, relax, hydrate, and enjoy the garden.
---
Fall/Winter Activities
Check for rat holes.
Pick up trash.
Leaves in the garden and brought in from the Park or dropped off by the public:

Spread the fall leaves around the garden grounds (do not mound which can attract rat burrowing).

Leaves on the sidewalk:

Put leaves from the sidewalk into the tree pits.
Put excess leaves in specific part of the garden where it can be sprayed with Activated EM and/or EM-5 to deal with malodors and dog waste pathogens (consult with other garden members).
Dispose of dog poop and stained leaves into the corner trash can.

Composting.
Soil preparations.
Remove snow and ice from sidewalk around the garden.
Shed cleaning and re-organizing.
Seed germination preparations (see below).
---
Open Season
The open season for GreenThumb community gardens is 4/1 – 10/31 (April Fool's Day through Halloween).
Off Season Activities. This garden is also active during the off season, 11/1 – 3/31, with activities including composting, as a leaf drop-off site, soil preparation, and general garden maintenance (see list above).
Seed germination may occur in the garden starting mid-February (about 6 weeks before the last frost*) in any of the following: hoop house (sheet covered raised beds), cold frame (box in the ground with a clear sheet cover), or in small enclosed light-permeable containers (e.g., 1-gallon water jugs).
* The last spring frost date for the NYC region is April 5; the first fall frost date is November 12.
From https://www.almanac.com/gardening/frostdates/zipcode/10009
Climate Station: New York Central Park Tower.
Last and first frost dates are 30% probability. Calculated using 1981-2010 Climate Normals.
Based on statistics, there is a 10% chance that a frost will occur outside of the dates listed.
---
How DEG Uses All Organic Matter and Weeds
Please note that this garden (and El Sol Brillante) may handle the following items differently:
All organic matter are treated with bokashi or composted and returned to the soil, including diseased plant matter (which are managed by the bokashi method).
Organic matter means leaves, branches, and any other plant matter.

Autumn leaves from Sauer Park next door — the Parks Dept sweeps up and gives us the leaves every fall, usually October through December. We use the leaves to cover the entire ground of the Children's Garden which gives us composting materials (brown) throughout the year.

Importance of leaves — Leaves do several important things, it keeps the ground from drying up and becoming dusty or muddy after heavy rain; the moisture and leaf matter create habitat for microorganisms, earthworms, insects and other organisms through the winter. It adds significantly to the ecosystem of the garden helping the surrounding trees and birds.

Brought in materials — mulch, wood chips, compost, and soil.
Once or twice a year, we get from a few bags to a dump truck load of materials. Each year we get a different material: last year we got a dump truck load of soil [80% soil, 20% compost] through LUNGS (Loisaida United Neighborhood Gardens, lungsnyc.org, with funds provided by the City Council); and a pickup truck load of wood chip mulch. Materials that are more than just a few bags are distributed/picked-up by other nearby gardens who are not able to accept the bulk quantity. Other gardens include, El Sol Brillante, El Sol Brillante Jr., Vamos Sembrar (Ave B between 12th & 13th St), and Diaz y Flores (13th St between Ave A & B).

Weeds — certain weeds are beneficial and may be companion plants to other desirable plants. Some weeds are edible, others provide food for birds, and others attract desirable insects. Please ask other gardeners before pulling weeds in the garden.