Note. Our garden changed its name to Down to Earth Garden on July 1, 2020. The following is information referring to our garden by its previous name, Children's Garden.
---
Click on image to enlarge.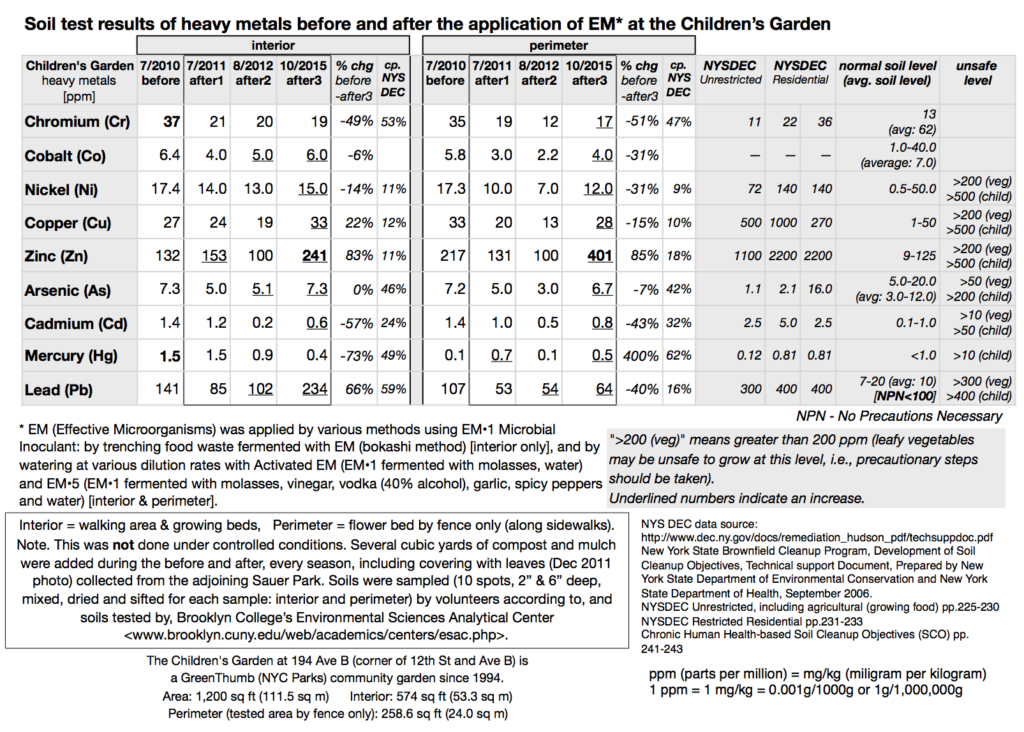 External inputs of materials into the garden that could also affect the levels of heavy metals (and other pollutants not tested) in the soil.
From 2010 to present:
Food waste – 2009-2010 from local cafe/caterer. 2009 to present, dropped off by households with possibly very, very few from local businesses (noticed: trash bags of stale bread; small batches of juiced pulp). See quantity of food waste received and processed.
Leaves – every year during the fall of about 60 to over 100 contractor bags of leaves from Sauer Park (next door, collected and provided by NYC Parks staff) and 2018-2019 also from other park(s) brought by pickup truck by NYC Parks staff.
Compost – in addition to what we produce in the garden from food waste, almost every year, either from DSNY (Sanitation) from their composting operations or from NYC Parks via GreenThumb. 2011 through 2019, compost delivery of smaller quantities (40 lb bags) from El Sol Brillante. 12/12/2015, a delivery from LUNGS by pickup truck to each garden.
Mulch/woodchips – from about 2 cubic yards to 10 cubic yards, every year from 2016 – 2020; when large quantities, distributed to other gardens; or delivered from El Sol Brillante or from LUNGS by pickup truck.
Soil – 2010 through 2016, mostly in smaller quantities (40 lb bags) from El Sol Brillante. 4/20/2017, one dump truck (10 cubic yards) delivery of 80% soil, 20% compost, from LUNGS and thanks to Rosie Mendez, City Councilmember.