We are currently not accepting food waste from the public until further notice.
Only garden members may be composting their own food waste in the garden.
In order to begin accepting food waste from the public again, we need to have enough volunteers each committed to one day a week.
If you are interested in volunteering, which would then allow you to also bring your own food waste to the garden, please fill out the following form: https://downtoearthgarden.org/volunteersignup/
---
Our 24-hour food waste drop-off completely closed to the public on March 22, 2020 (Sunday). DSNY (Sanitation) picked up the last batch of food waste (a portion of what we receive) on March 20, 2020 (Friday). Also, our pool of volunteers went from 11 people to only 3 who were willing to continue during that last week before March 22.
---
Note. Our garden changed its name on July 1, 2020. The following is information on our composting activity before then and refers to our garden by its previous name, Children's Garden.
The Children's Garden began doing the bokashi method of composting in the fall of 2009 and became a food waste drop-off site from 2010 until the pandemic forced the closure of the drop-off setup on March 22, 2020.
In November 2018, our community garden became a public food scrap drop-off site through DSNY (NYC Dept of Sanitation). So, people could find our drop-off site online (link at end of this paragraph), and DSNY is picking up part of our dropped-off food waste on Mondays, Wednesdays, and Fridays. Most of the food waste is processed (fermented) at the garden, and then used to amend the soil or to produce compost for the gardens and the community (non-garden members can request for some of the compost and amended soil).
Link: NYC Food Scrap Drop-Off Locations [El Sol Brillante-Children's Garden, 546 E 12th St]
Before November 2018, our 24-hour food waste drop-off location was not publicized since its start in 2010. People found out about our drop-off site either by word of mouth, by those who took our workshops, or if they passed by the garden and noticed the drop-off setup.
Initially, from Nov 14, 2018 (Wed), we've been putting about 5 to 15 lbs of food waste in DSNY's brown bin (and later, filling it up, ~50+ lbs, more often) for pickup 3 times a week. We were at that time getting roughly 30-40 lbs and sometimes more of food waste a day. By June 2019, with an increase in dropped off food waste, we requested additional brown bins; from June 10, 2019, we had 3 brown bins on hand. By March 5, 2020 we added another two of DSNY's brown bins.
Timeline:
(September 2020, need enough volunteers as part of assessing whether to open the drop-off to the public again.)
March 22, 2020, drop-off is closed down completely.
March 20, 2020, DSNY Sanitation picks up last batch of food waste.
March 5, 2020, received two more brown bins (5 total); requested from DSNY on Feb 14, 2020 since the amount of drop-off continued to increase. The extra brown bins allowed us the option to give more to Sanitation pickup (Mon, Wed, and Fri) beyond what our number of volunteers can process. From March 6, 2020 (Fri) through March 20 (Fri), we were putting out 3 brown bins (of the 5) for Sanitation pickup, except one time, 4 bins, but the 4th was less than 1/2 filled.
June 10, 2019, received two additional brown bins (3 total), and began using 2 brown bins and occasionally 3 brown bins for Sanitation pickup.
November 2018, Children's Garden became a public food scrap drop-off site.
2010, started 24-hour food waste drop-off for the community at the Children's Garden (however, did not publicize/advertise the drop-off until November 2018 via DSNY's online map).
Food waste drop-off available to the community at El Sol Brillante (only when the garden is open, i.e., when a garden member is present).
Fall 2009, bokashi composting method began at both community gardens (El Sol Brillante and the Children's Garden).
September 17, 2009, first bokashi workshop at El Sol Brillante community garden.
Below are graphs and data of the amount of food waste we've processed at both community gardens combined.
Quantity of food waste diverted by both gardens combined
---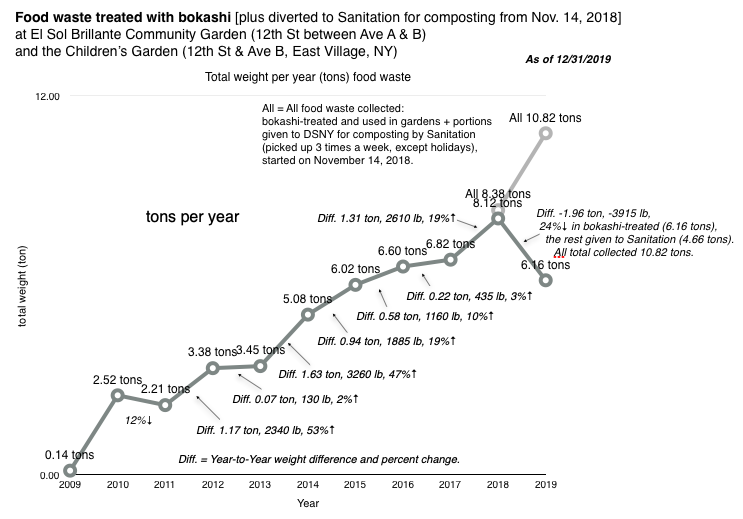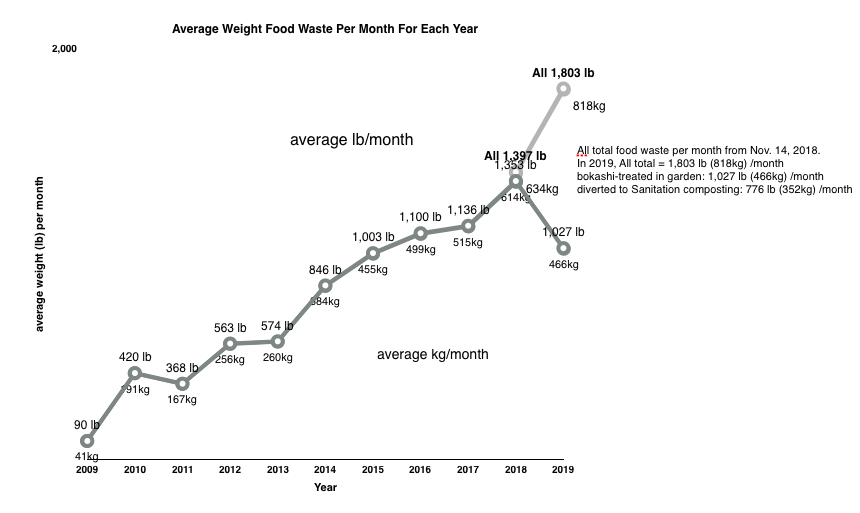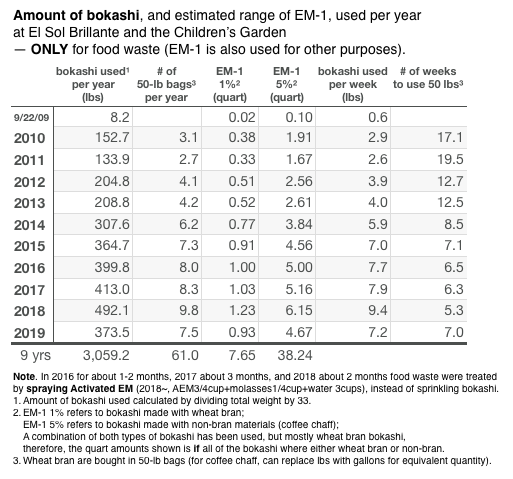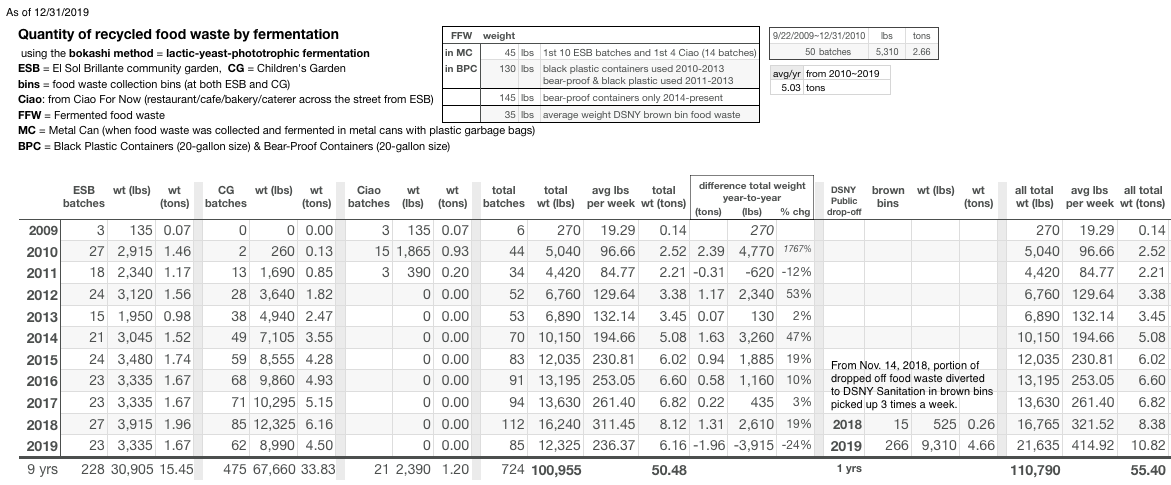 ---
See also "History of Composting Food Waste and Leaves at El Sol Brillante and the Transition to the Bokashi Method."